What Doug's been up to lately?
---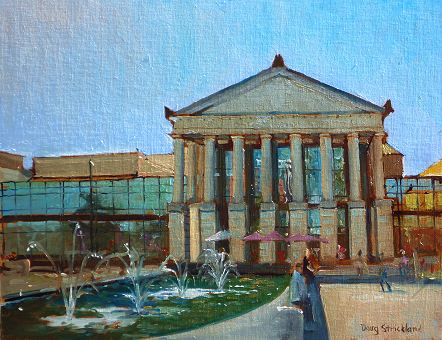 On Saturday, October 15th, Doug participated in the Artstober evemt on Lichtin Plaza at the Progress Energy Center for the Performing Arts in Raleigh. Above is a photo of Doug's plein air painting completed during the event.
---
Doug entered two paintings in the 2011 NC State Fair. Both won awards!
They will be on display in the Kerr Scott Building at the Fair through October 23rd.
| | |
| --- | --- |
| "Bathing Beauties" - First Place in Professional Painting | "The Fifies Diner" - Best North Carolina Scene |
---
| | |
| --- | --- |
| | On Sunday, October 9, Doug participated in a paint out along the Buffalo Creek Greenway in downtown Smithfield. The event was sponsored by the Johnston County Arts Council and was part of the Mountains-to-Sea Trail celebration. There was also a "Clues on the Neuse" family event featuring a number of "campsites" manned by various groups and performances by 3 different bands at the amphitheater. |
---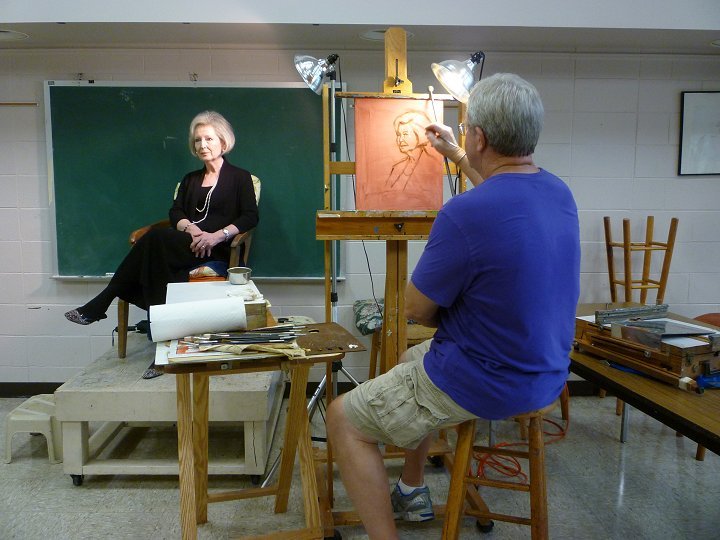 On Saturday, 9/24/11, Doug volunteered to do a three-hour demonstration/workshop on portrait sketching in oil at Sertoma Arts Center in Raleigh. Though not shown in this photo, there were eight artists who took part in the event which was held to support programs at Sertoma. The model is my wife, who also volunteered her time.
---
Doug will have 14 paintings on display and for sale at Duke Raleigh Hospital in Raleigh (formerly Raleigh Community Hospital) from 9/15/11 through 11/15/11. They are hanging just down the hallway from the main visitors entrance.
---
Doug had eleven paintings on display at Benson Area Medical Center, Benson, NC, from July 20, 2011 through Sept. 12, 2011.
---
July 30, 2011 - Doug participated in the ComeUnityNow Festival on Fayetteville Street in Raleigh, NC. Though temperatures reached triple digits, Doug was able to complete three paintings which were sold to benefit victims of last April's tornadoes in the area.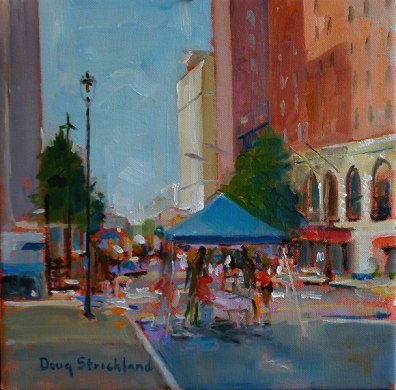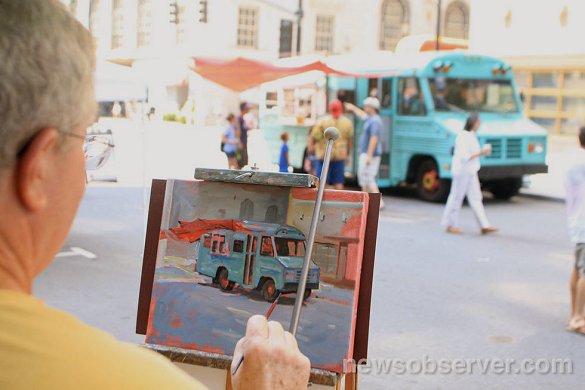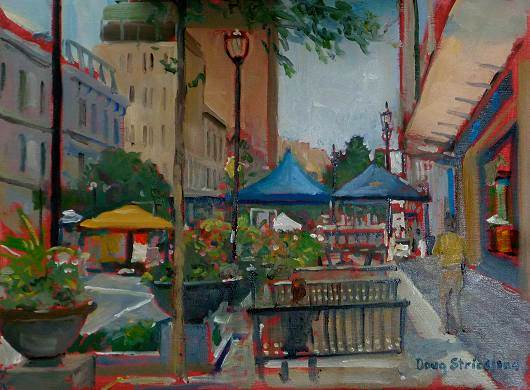 ---
July 21, 2011 - Doug's website was mentioned in "The Polished Pebble Blogspot".
---
Below is Doug's entry in the 2011 Clayton Visual Arts Poster Contest, " Artful Hospitality". It was displayed with the other entries at the Clayton Center during the month of June, 2011. It is a painting of Morning Glory Inn, a bed and breakfast in Clayton.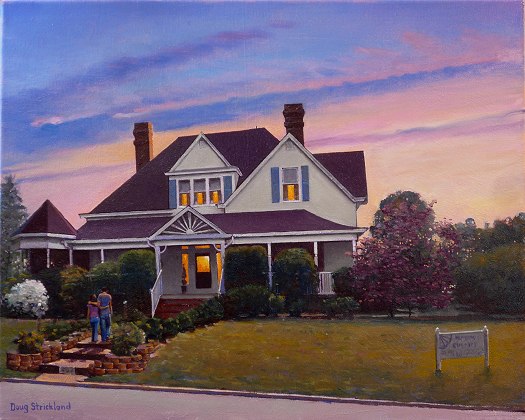 "Artful Hospitality"
16" x 20", oil on canvas
$500
---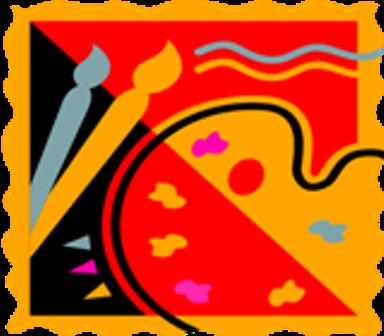 Doug participated in the 2011 Johnston County Art and Food Festival on April 29, 2011. Doug was chosen "People's Choice - Best Artist" by polling of the attendees.
Doug's two painting entries were: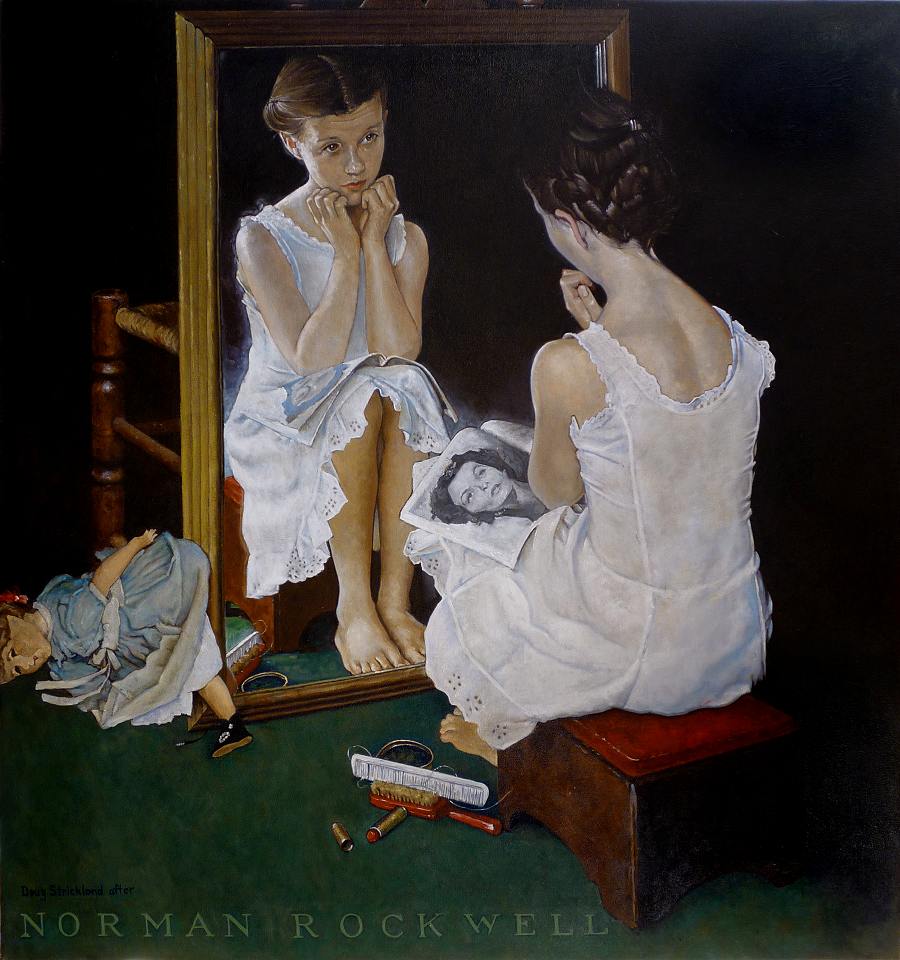 Doug's reproduction of Norman Rockwell's 1954 painting: "Girl at Mirror"
&

"Andrew Pinckney Inn, Charleston, SC"
---
On Sunday, January 30, 2011, Doug and Lora Davis Stocker exhibited examples of their original art in the lobby of W.J. Barefoot Auditorium in Benson, during the musical performance,

Through The Years

A Celebration of music from the Great American Songbook of the 1930's and 1940's

presented by the Benson Little Theatre
---
On Wednesday, Jan. 19th, 2011, Doug did a 3 hr. portrait sketch demonstration at The Orchard House Booksellers and Coffee Shop in downtown Smithfield. About 15 other artists attended and seemed to enjoy the demo, the coffee, and the exchange of ideas.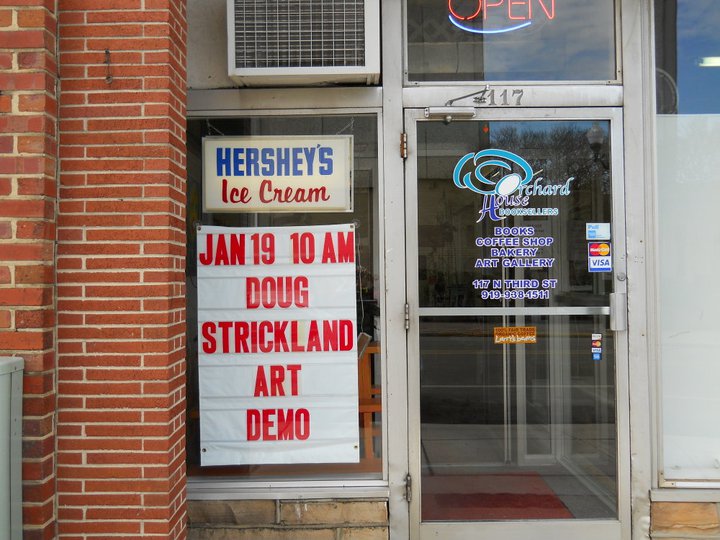 Other photos can be seen on Facebook.
---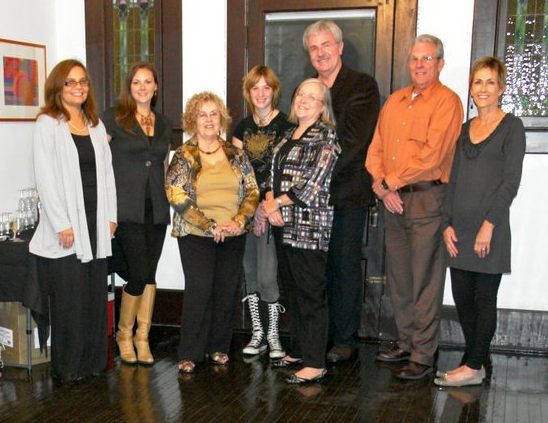 Artists with work on display at the S. D. Stone Gallery include Laura Padilla Bailey, Kristy Chandler,
Joanna McKethan, Karen Miller Anderson, Doug Strickland, Ron Lunn, and Betsy Whittington
The paintings below will be on display in the Grand Opening "Community Traditions" show at the S. D. Stone Gallery for a month beginning Nov. 13, 2010. The gallery is at 201 East Church Street and is open 11am-7pm on Thursdays, Fridays, and Saturdays and other times by appointment. Contact: Kristy Chandler, 817-690-0568.
---

Painting-in at Orchard House Booksellers in Smithfield, NC, Nov. 10, 2010 ~ and my painting.
---
NC State Fair 2010

Doug had two paintings in the State Fair Art and Photography competition this year. One of the paintings (the one on the left below) won the Commissioner's Purchase Award + Honorable Mention in the Faces of North Carolina competition, while the other ( on the right) won an Honorable Mention in Professional Painting.
Their titles, respectively, are "The Tecnician (Henry Lambert) and "Rested".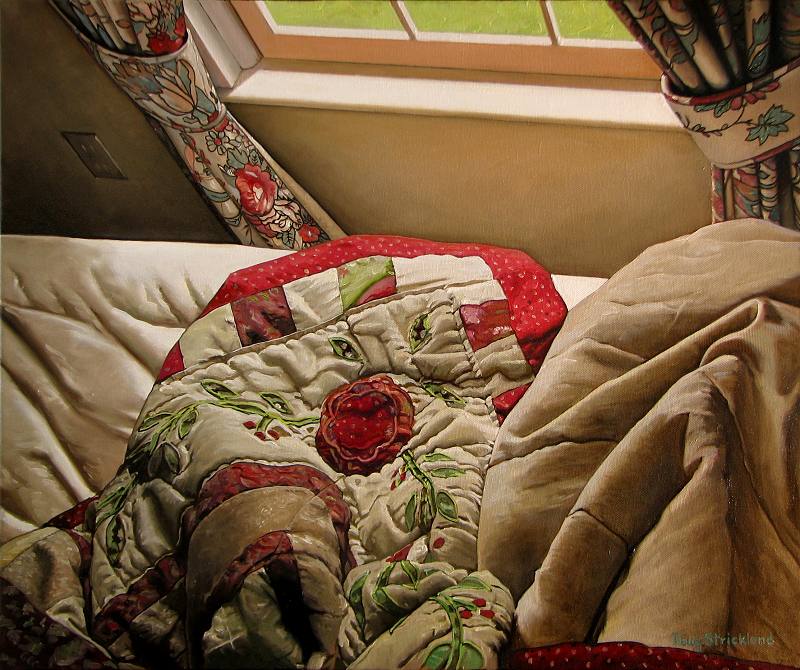 Prints of both are available at FineArtAmerica.
---
Clayton Art Faire 2010
The opening reception for this years show was held on Thursday, Sept. 9th. Doug won one of three Award of Merit prizes for his painting, "The Technician". The show, which is sponsored by Clayton Visual Arts, runs through the month of September in the gallery at the Clayton Center. Larry Strevig and Dorothy Demboski served as hosts during the reception.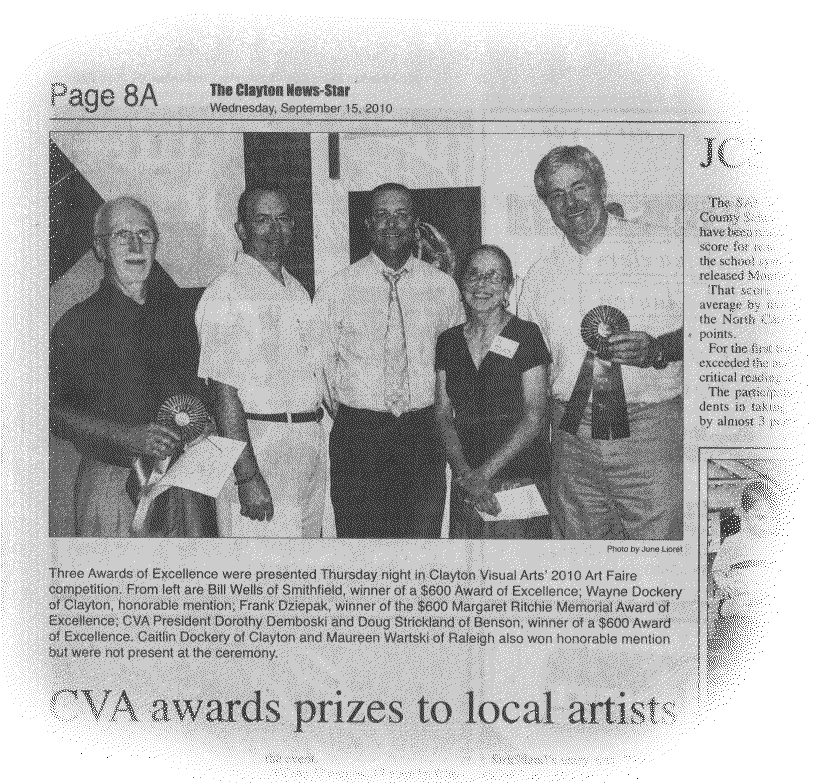 ---
Midtown Plein Air Art Competition 2010
On June 19th anf 20th, 2010, North Hills Shopping Center in Raleigh held its second Plein Air Painting Competition. This included a 3-hour 'quick painting competition. On of my two entries won first place in the 'People on the Move' category.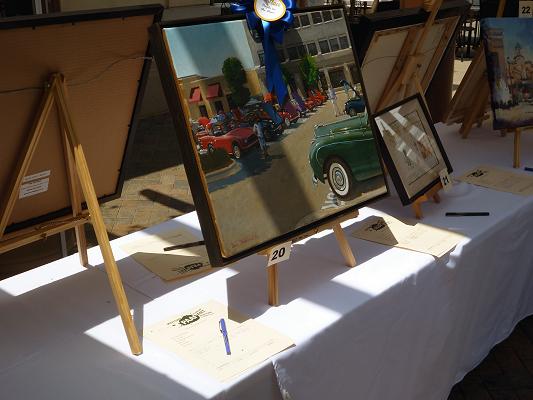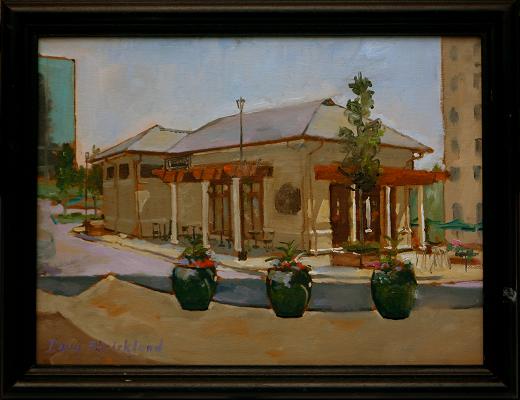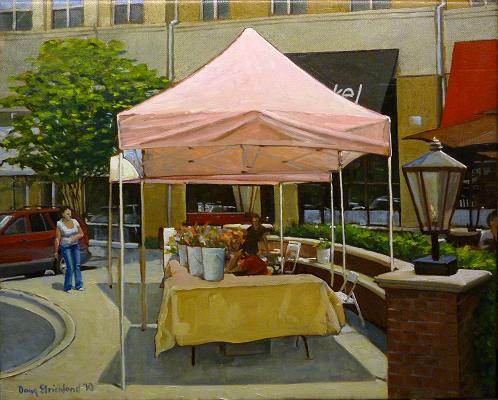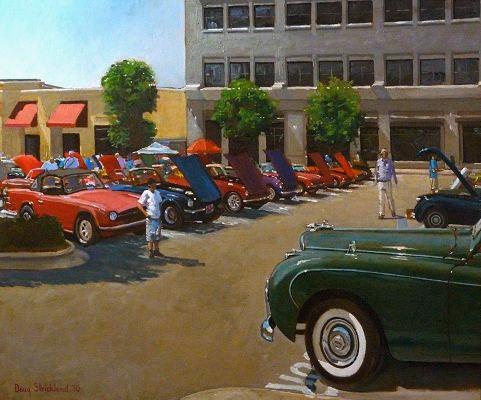 ---
On Saturday, May 8th, 2010, Doug painted at Smith Nusery near West Johnston High School as part of the "Berry Bash: Mother's Day Art Festival on the Farm." Several other artists, who are part of the Johnston County Arts Council's plein air painters group also participated, including Don Stephenson, who took these photos.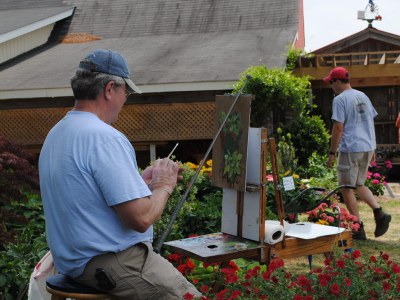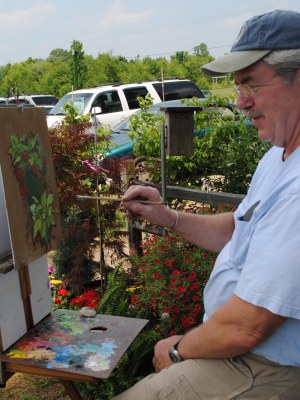 ---
During the months of May, June, and July, 2010, the Visual Art Exchange Plein Air Painters exhibited recently painted works from various locations in Raleigh. Below are Doug's two entries for:
Raleigh En Plein Air
at Raleigh City Museum
220 Fayetteville St.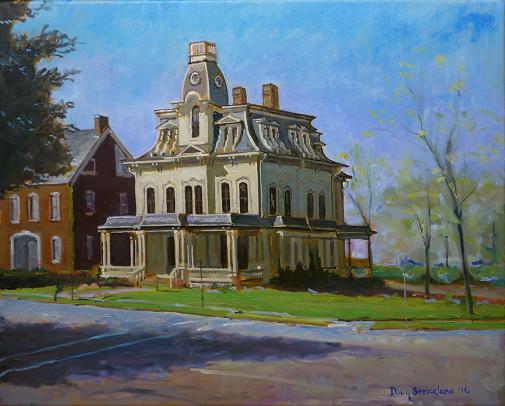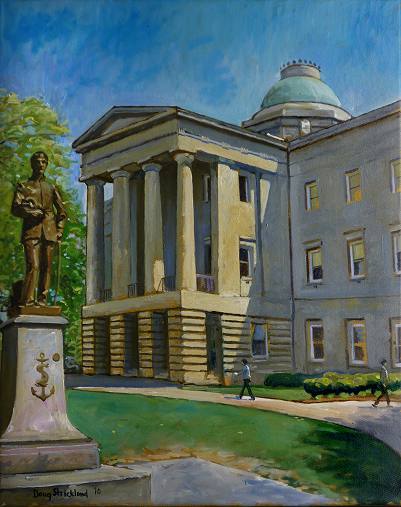 ---
On Friday, April 30th, 2010, Doug participated in the Johnston County Arts and Food Festival fundraiser for the Johnston County Arts Council along with 20 or more other local artists. There was lots of great food samples served by participating local restaurants, raffles for prizes, people's choice awards, and dancing to the music of a DJ. Doug's painting, "Blue Windows" won the first place ribbon in the juried competition, and was sold during the event. A portion of the sale went to the Arts Council.
---
Saturday, March 20th, 2010
Art-A-Thon for Haiti at White Collar Crime in Raleigh, NC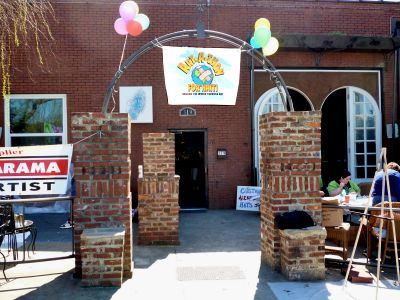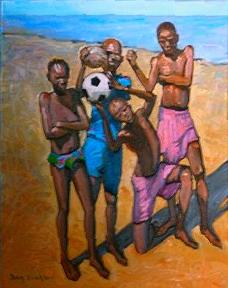 The entrance to the Art-A-Thon for Haiti (sponsored by Jerry's ArtARama) & Doug's donated painting ('Haitian Happiness") which was painted during the event in under 4 hours.

---
Friday, March 19th, 2010
Reception for 3 artist show at Nicole's Studio & Art Gallery, Raleigh, NC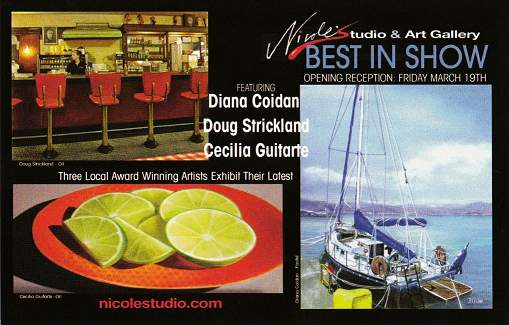 Doug had seven paintings in the exhibit which ran through April 24th.
Contact Nicole's Gallery at 919-838-8580.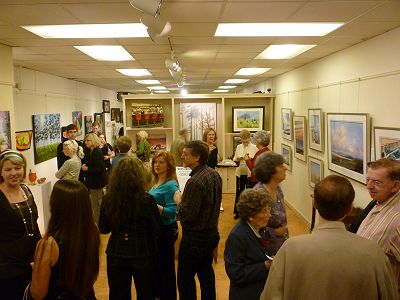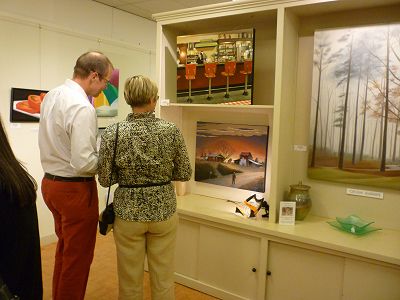 ---
Doug was one of several artists participating in Duke Raleigh Hospital's "Mosaic" Exhibit, which depicts the theme of "diversity".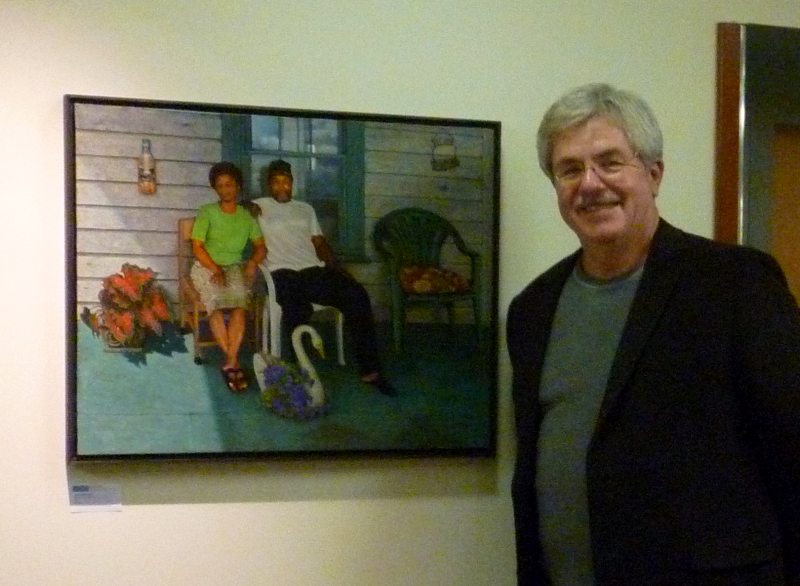 Doug is shown with his entry, "Edna and Sammy". The show will run through March 15, 2010.
---
Doug was one of three artists invited to paint at the first annual Winterfest on Dec. 4, 2009 on Raleigh's Fayetteville Street by the Downtown Raleigh Alliance.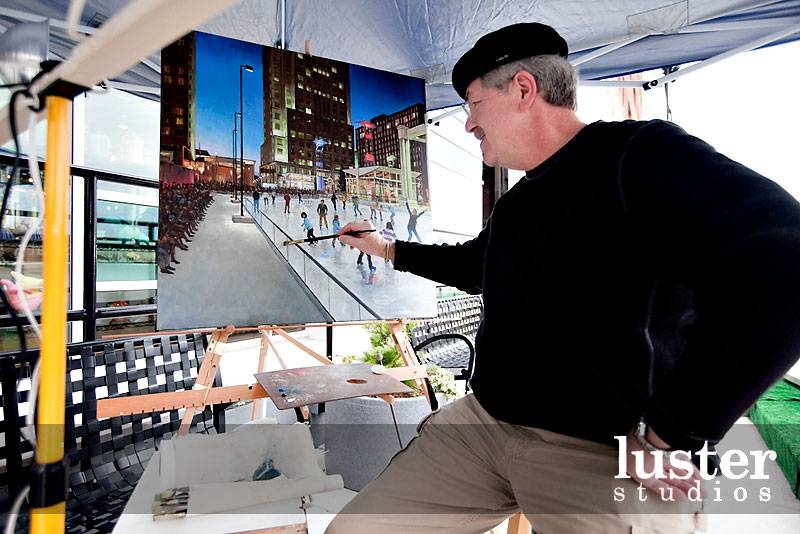 Doug's painting depicts the outdoor ice skating rink on the plaza that had its grand opening that night. The painting is now the property of Downtown Raleigh Alliance. Other artists participating in the event were Dan Nelson and Eric McRay. Thanks to Craig Luster of Luster Studios for this photo.
---
Two of Doug's paintings, "Toy Crossroads" and "Rested", were part of the Junior League of Raleigh's "Someplace Like Home" fundraiser show at The Raleigh Convention Center, Oct 21-25, 2009. "Rested" won third place in the juried show.
---
Doug's painting "Red Cows on Grapevine Road" won "Best in Show" at the 2009 NC State Fair.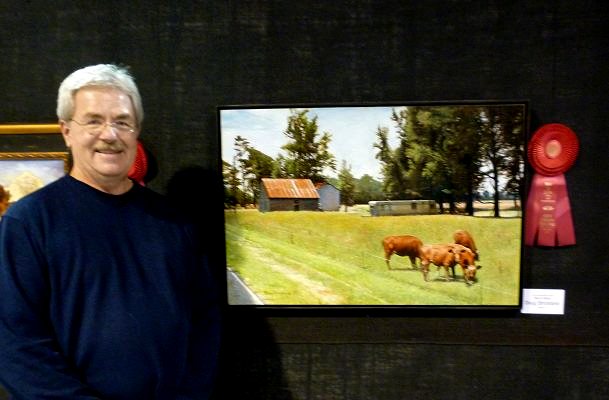 Another of Doug's paintings, "Face-off", was also in the exhibit.
---
On Sunday, October 19, 2009, Doug participated in a silent auction in support of the Mountain to Sea Trail at the new equestrian center being constructed at the Portofino development on Hwy. 42 near Clayton, NC. Congressman Bob Etheridge attended and spoke at the event.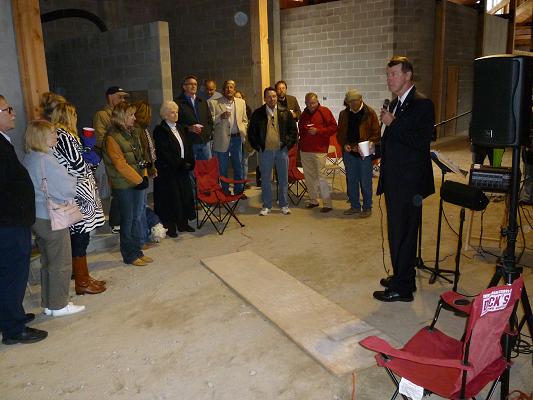 Doug sold all three of the paintings he showed at the event.

"Trailhead"


"Rapids on the Tuckasegee"


"Pastureland Shade"
---
On Saturday, October 17, 2009, Doug displayed some of his artwork as part of the "Art Ala Cart Historic Home Tour" in Clayton, NC at the home of Lee and Ruth Silberman. It was sponsored by Clayton Visual Arts.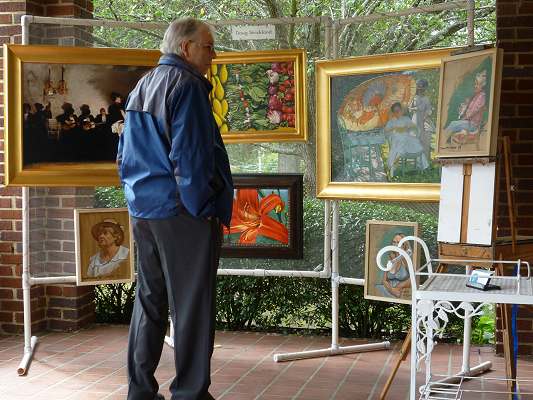 One of the tour participants takes a look at Doug's display on the Silbermans' porch.
---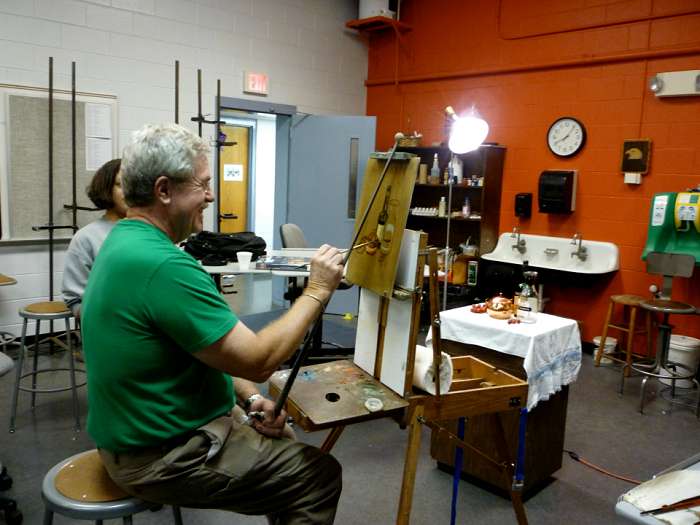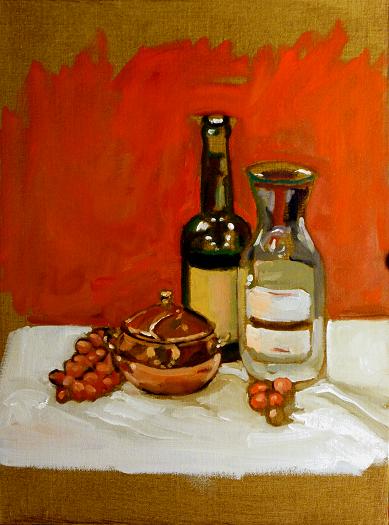 9/30/2009 - Doug paints a one hour still life demonstration as guest of a painting class at Johnston Community College.
---
Doug won an "Award of Merit" at the 2009 Clayton Art Faire on Sept. 3, 2009, for his painting "Red Cows on Grapevine Road".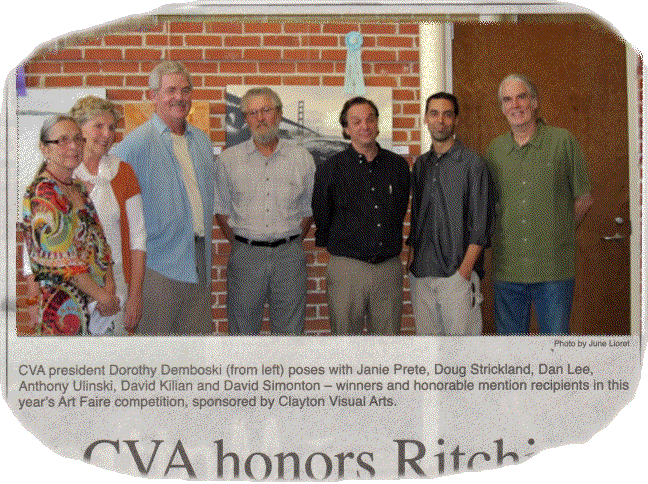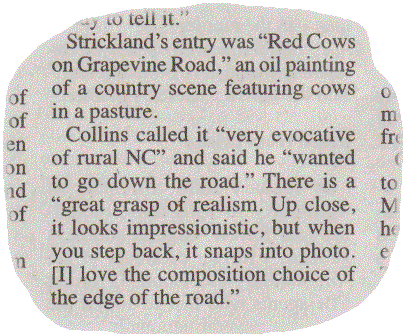 This painting and other winners will be on display at the Clayton Center in Clayton, NC throughout the month of September.
---
(From the Garner Clayton Record)
Arts & Entertainment, Wednesday, Aug. 26, 2009
Local art adorns new hospital
Staff Writer

-

The artwork that hangs on the walls of the hospital here has special meaning. Instead of buying and framing random prints, hospital leaders decided to hire local artists to decorate Johnston Medical Center-Clayton, which will open this fall. Johnston County has plenty of local artistic talent, said Suzette Rodriguez, a spokeswoman for Johnston Health. "We wanted to promote it," she said. The hospital bought 43 pieces of art that are displayed throughout the new hospital. Hospital officials wanted art that created a sense of tranquility, Rodriguez said. Scenes of nature adorn the walls. One of the biggest pieces, "Afternoon Rain" by Walter Day of Archer Lodge, hangs in a main waiting area of the hospital.

Doug Strickland has seven paintings in the new building. A retired social worker in Johnston County, Strickland lives in the Meadow community. One of Strickland's largest paintings in the hospital is of an old car. Another is of an old country store near Clayton. He gets his inspiration from Johnston County scenes. Strickland said he was pleased that Johnston Health wanted to use the works of local artists. "It helps to provide more of a local flavor to people who go into the hospital," he said.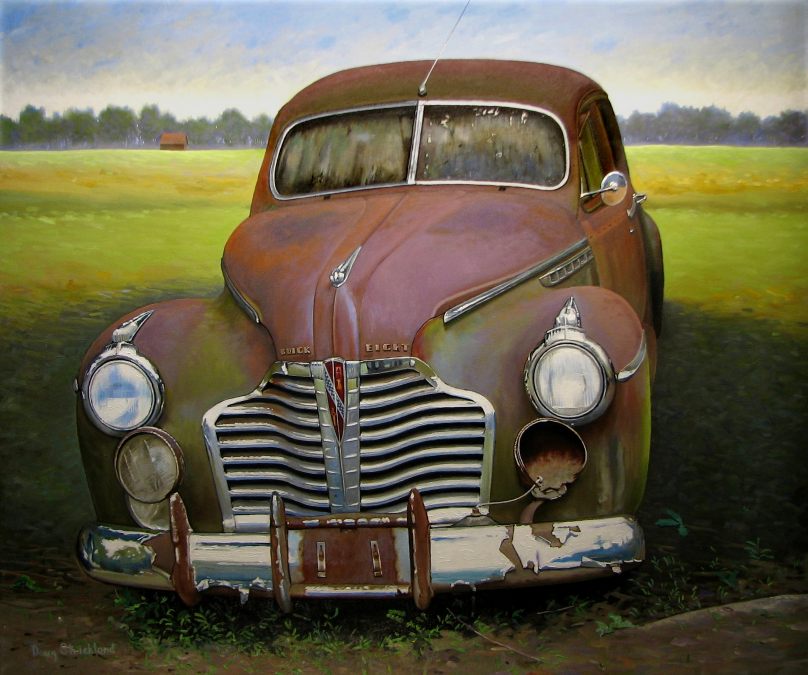 Janie Prete of Clayton has five paintings in the building. Prete said her painting called "Journey of the Vast," which shows a bird, symbolizes Johnston County taking flight. "It's such a fast-growing area, people are coming in," Prete said. "Things are changing, hopefully for the best."
About a dozen artists have works in the new hospital. A photography project shows the letters of "Johnston Health" using regular items in the hospital. And some employees created two Jackson Pollock-style paintings by writing "JMC" over and over with paint. "This project is all about Johnston County, and that's just one more piece of it," Rodriguez said.
---
Doug won two awards at the conclusion of the Midtown Plein Air Painting Competition sponsored by North Hills Shopping Center in Raleigh on August 9, 2009.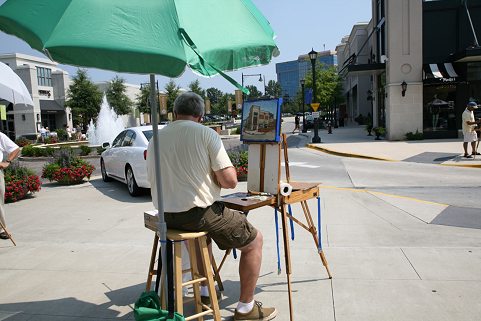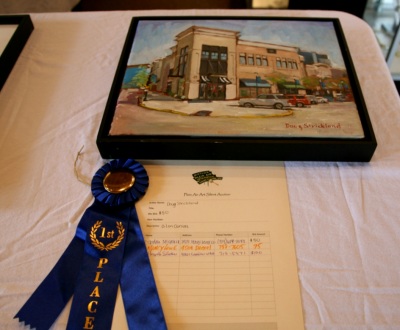 He won "Best Plein Air Representation" for this painting of Jolly Jewelers, which was completed in July:
He won "Best Quick Painting" for the painting on the left, which was done on site between 10 am and 1 pm on Sunday, Aug. 9th: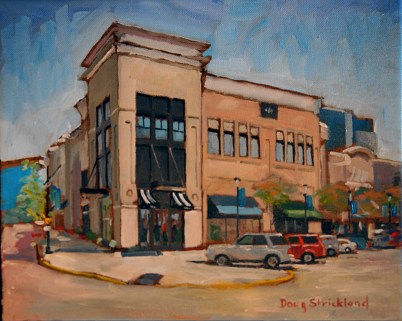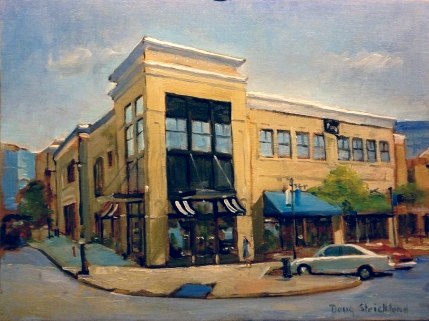 The image on the right is actually a 'practice painting' completed in 3 hours in preparation for the final quick painting event. There are similarities to the winning entry, but the cars in the foreground and other details are different. The practice painting is available for sale.
---
Doug's 2-hour plein air painting of American Discount Building Suppies, still on his French easel, completed June 25, 2009.
---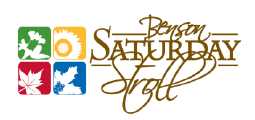 On Saturday, June 13th, 2009, Doug painted during the Benson Saturday Stroll - "Splash into Summer" Event on Main Street in Benson, NC.
Photos courtesy of Daniel Marcus, Omniimpact.com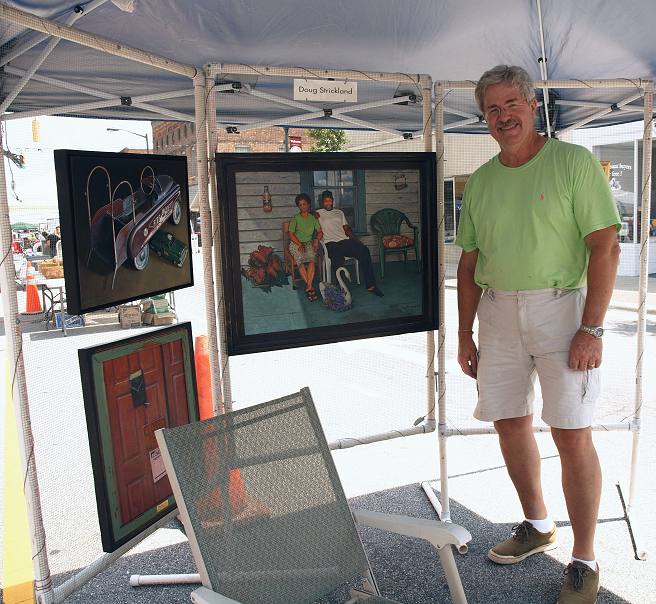 Me, posing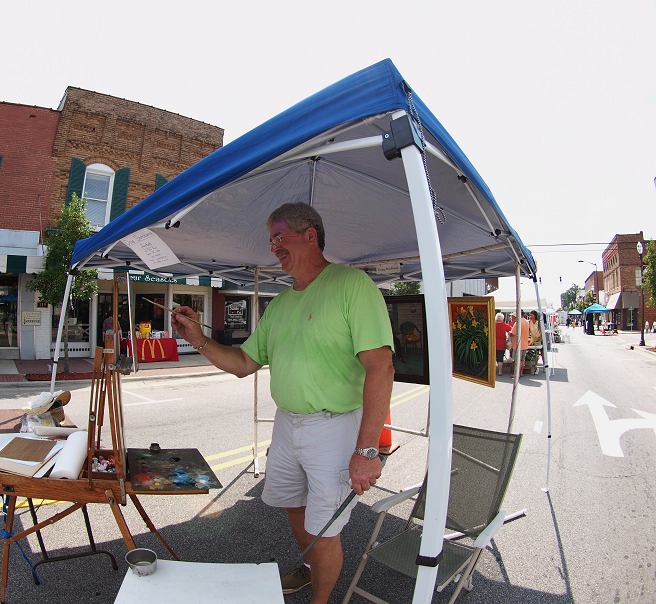 Me, painting
---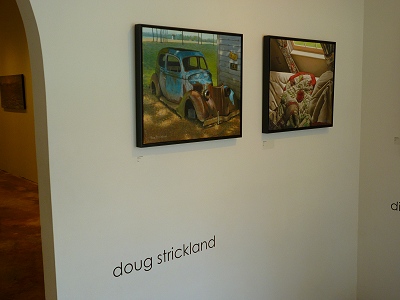 During the month of June, 2009, Doug had two paintings, "Blue Ford", and "Rested", on exhibit in the Exchange Gallery at Visual Art Exchange in Raleigh.

---
Doug's painting, "Buick Eight" was accepted into the Raleigh Fine Arts Society exhibit of North Carolina art. It was prominently displayed just to the left of the escalator in the lobby of Meymandi Hall at the Progress Energy Center during the month of April, 2009.

---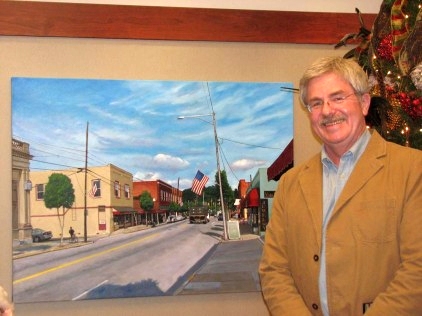 New branch office showcases local artwork representing area's roots
Raleigh, N.C.óDec. 9, 2008- Continuing the tradition of featuring local artwork in branches, paintings from three local artists are on permanent display at the new Capital Bank branch in Clayton at 12701 U.S. Highway 70 West. Participating artists are Doug Strickland, Steven Gibson and Nicole White Kennedy. "The paintings portray local landmarks and represent the spirit and people that highlight the town's personality," said B. Grant Yarber, president and CEO of Capital Bank. "We are proud to join the Clayton community and look forward to contributing more to this thriving area."A member of the Visual Art Exchange in Raleigh, Strickland has received multiple accolades for his work including the Award of Merit at the 2008 Clayton Art Faire. His work on display at Capital Bank includes "Clayton Main Street" and "T.R. Lee Service Station, Clayton," both of which are oil on canvas. Since retiring in 2003, he has devoted more time to his craft of painting and drawing after a career in social work. . .
---
Three of my portrait paintings were on exhibit along with other members of the Sertoma portrait painters group through Nov. 23rd, 2008. The reception for the exhibit was at 2pm on Sunday, Oct. 26th.
---
NC State Fair - 2008
Two of my paintings were entered into the Art and Photography competition at the 2008 NC State Fair. Both of the paintings won awards.

Doug won a Commissioners Purchase Award (above) and First Place in Professional Painting (below) for his two entries in the NC State Fair. Both pieces were on display through the end of the Fair on Oct. 26, and both sold during the Fair.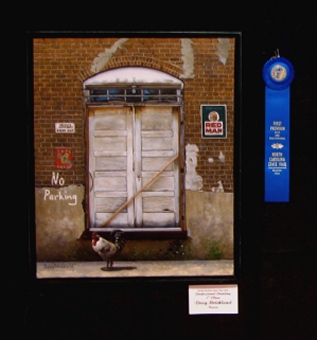 ---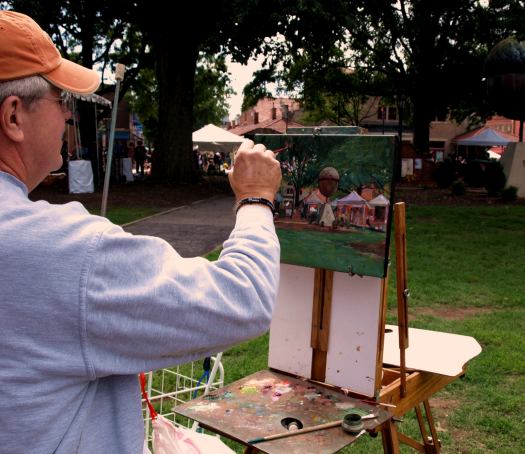 9/20/2008: Painting at the recent Sparkcon Street Painting Festival sponsored by the Visual Art Exchange on Moore Square in Raleigh, NC


---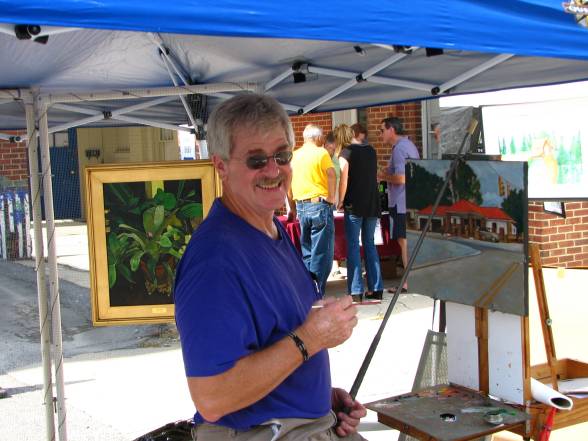 9/27/08: Painting at the Ava Gardner Festival in Smithfield, NC.
---


9/4/2008: Winners from the 10th annual Clayton Art Faire Artists Competition are (from left) David McGehee; Mayor Jody McLeod, who presented the awards; Doug Strickland, Laura Padilla, Janie Prete, and Larry Strevig, chair, Clayton Visual Arts, sponsor of the event. Not shown are Susan Soper and Michael Hall. The exhibit was at The Clayton Center through Sept. 30, 2008.
Doug's winning painting: "Toy Crossroad"
Contact Doug Strickland, Artist
home / links / pencil works / portrait page / copies of other artists works
pricing and commissions / paintings for sale / variety page / quick studies / prints