Copies of other Artists' Works by Doug Strickland

If you are interested in commissioning a hand painted copy of a favorite old master painting or portrait, please contact me via email. I can create quality reproductions in a variety of styles. Subject matter may include portraits, animals, abstract art, landscapes, still lifes, seascapes, or figure studies, etc.

These are some paintings I have done over the years to try to hone my painting skills. As you can see, this is an eclectic mix of various techniques which were inspiring to me at the time. Since I did not have the original painting in front of me, I was limited both by my skill and the quality of the reproduction from which I was working. Most are currently part of my own collection, if you are interested in purchasing one of these, with the understanding that each is a COPY, not the original masterpiece and that each is painted in a somewhat different size than the original, you can contact me for details via e-mail
Contact Doug Strickland, Artist
Select Artwork and order Prints or Greeting Cards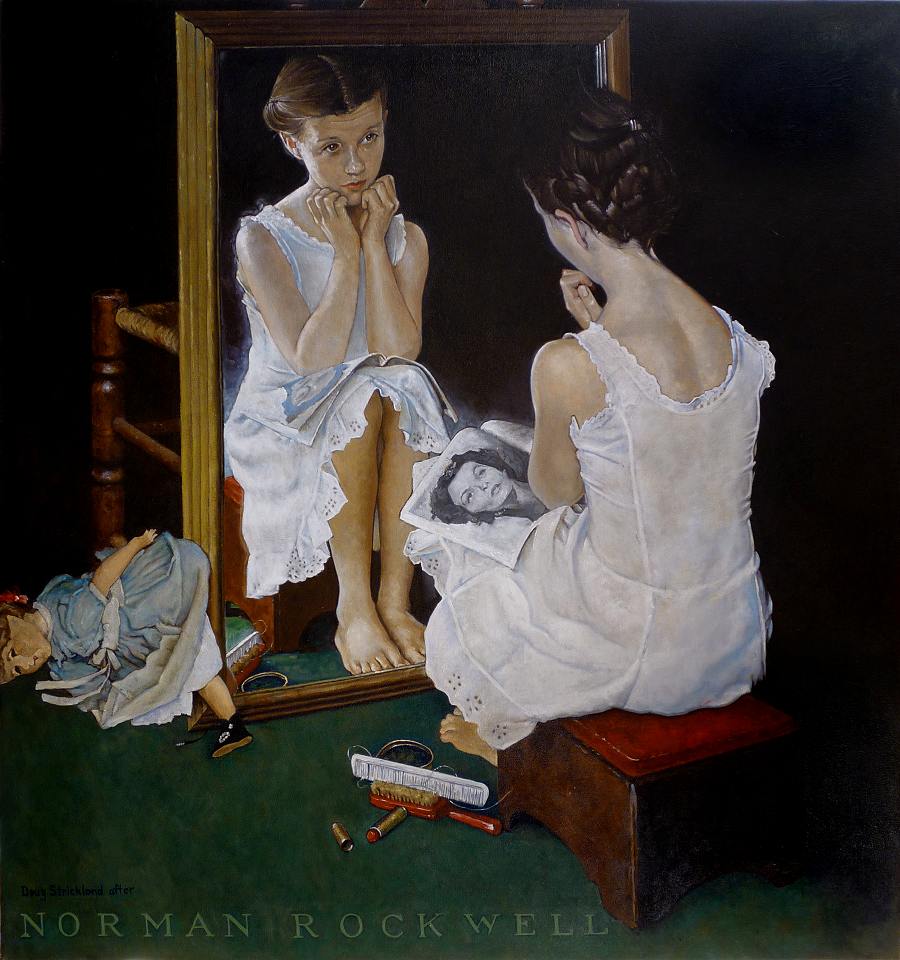 My hand-painted reproduction of Norman Rockwell's "Girl at Mirror". Cover illustration for The Saturday Evening Post, March 6, 1954
32" x 30", oil on canvas.
See Detail View
It was displayed at the Johnston County Art & Food Festival, April 29, 2011, where it won the People's Choice Award.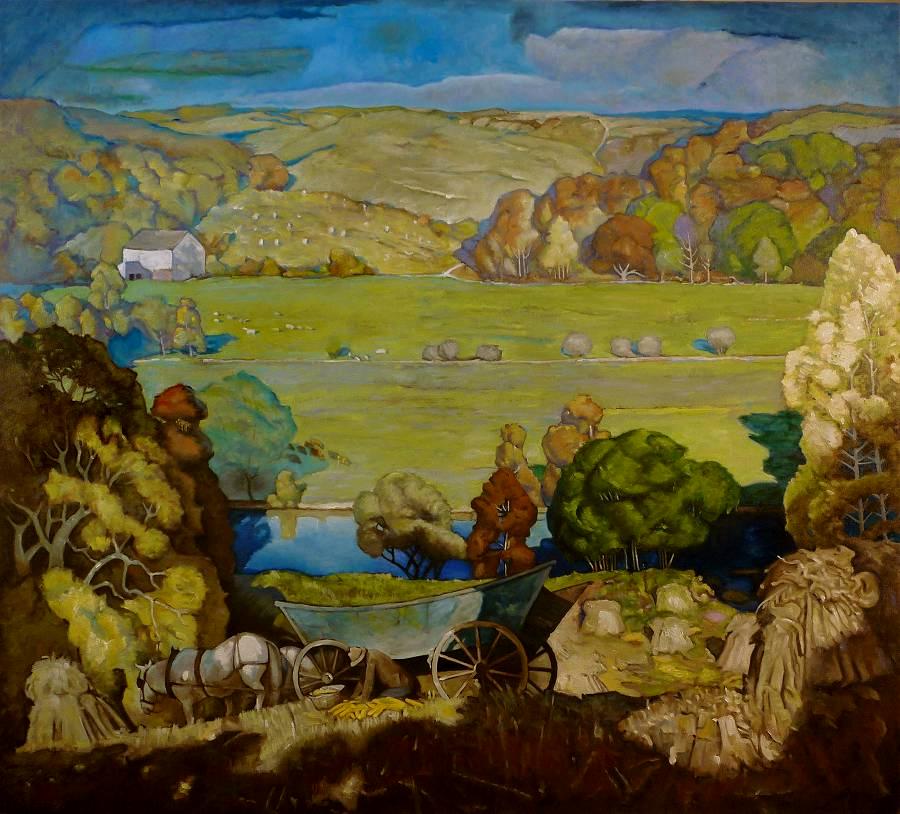 My hand-painted reproduction of N. C. Wyeth's "Corn Harvest on the Brandywine"
See Detail View
Oil on canvas, 36" x 40" (slightly smaller than the original)
The original of this painting is in the collection of the North Carolina Museum of Art and has always been one of my favorites. Now, it will be hanging above my couch.



"The Kiss"
30" x 24", oil and metal leaf on panel
after Gustav Klimt, original: 72" x 72"
See Detail View

$1000


Contact the Artist


"Water Lilies"
16" x 20", oil on canvas
after Claude Monet, 1903, original 32" x 39 3/8"
See Detail View

$750


Contact the Artist


"The Needle Rock and the Porte d'Aval, Etratat"
16" x 20"
after Claude Monet, 1885, original 25 9/16" x 32"
Private collection,
Sold at 2007 Johnston County Arts Council Fundraiser


"The Tenement Mother"
18" x 24", oil on panel
after Original by Marie Danforth Page
Exhibited at Visual Art Exchange, Raleigh, NC, 2008
oil on canvas, 20" x 24"
See Detail View

$800


Contact the Artist


Reproduction II of "The Garden Parasol
Oil on canvas ~ 24" x 36"
See Detail View

$2000

Contact the Artist


Reproduction of "The Garden Parasol"
24"x30" oil on canvas
Original by Frederick Carl Frieseke



Reproduction of "Still Life with Teapot and Lemons"
8" x 12", oil on canvas
original by Elizabeth Vaughan Okie Paxton (early 20th Century) was 12" x 14"
See Detail View

$500

Contact the Artist


Portrait of Jean-Joseph Cassabea de Mondonville (1711-1772)
Reproduction: 20" x 16", mixed media, pastel and colored pencil
Original by Maurice Quentin de la Tour
Collection: Andrew Baumann




Reproduction II of "El Jaleo"
24" x 36" ~ oil on canvas
See Detail View
$3000




Reproduction of "El Jaleo" ~ 24" x 36"
Original by John Singer Sargent ~ 94.5" x 137"
Collection: Jeff & Dixie Hockaday, Sanford, NC







Copy of Roy Hilton's "The Miner"
(36"x30" ~ same as the original)
After Roy Hilton's original, painted in 1936
Collection: Andrew A. Sicree, Ph.D.
Director, Earth & Mineral Sciences Museum
Pennsylvania State University




Copy of Roy Hilton's "The Miner"




in 20"x16" format




(color differences are due to variation in lighting conditions)


"Study after von Walscapelle"
Jacob van Walscapelle was a Dutch artist born in Dordrecht in 1644, who died in Amsterdam in 1727.
oil on canvas, 30" x 24"

$2000

Contact the Artist


Copy of "Child Holding a Dove"
After Pablo Picasso's original painted in 1901
Collection: the artist
20"x 16", oil on canvas

$500

Contact the Artist


Copy of "La Sieste" or "Meridienne"
Original painting by Vincent Van Gogh in 1890
(which, by the way, was copied from an earlier work by Jean-Francois Millet).
oil on canvas, 24" x 30"

$800

Contact the Artist


Copy of "Van Gogh's Chair"
Original painting (by Van Gogh) completed in 1888.
oil on canvas, 20" x 16"

$400

Contact the Artist
Contact Doug Strickland, Artist
home / links / pencil works / portrait page / copies of other artists works
pricing and commissions / paintings for sale / variety page / quick studies / prints